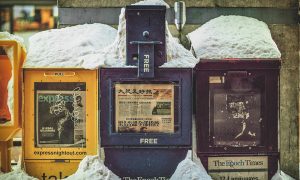 Interesting or inspiring articles (perhaps a bit of both) …
Each week, we share links to a few interesting or inspiring articles we've come across during the previous week. They're meant to stir your thinking about marketing, communication and graphic design for positive change as well as conscious capitalism and the socially conscious movement.
Finding the time and space for innovation in the workplace can be challenging. This article has some interesting tactics anyone can start today to boost creativity. It has some advice for senior leaders too.
With content marketing being a key component of marketing budgets these days, having clear, focused and quality writing is important. Good writing takes time and writing a great headline is an art. Here are some suggestions on what to focus on when it comes to article headlines.
How do you get your news? Do you subscribe to your daily? Or, is Facebook your go-to news source? Here's an article with an interesting perspective on newsfeeds and the algorithms working to filter the information we see. Thanks to my professional friend, Judy Gombita (@jgombita), for the share.
I've spent most of my career working in the B2B environment, and over time, I've established some beliefs about business development and the sales funnel. This article supports what I've seen work for B2B lead generation, particularly the idea that organic growth is still the most effective. Reading about the trends is worth your time.
We liked this image from Unsplash.com by Matt Popovich which portrays the traditional news and journalism industry.