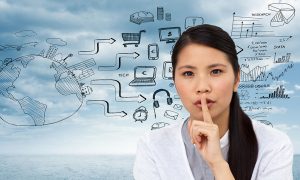 I often see terrible marketing and advertising promotions from businesses as I go about my day. I'm sure you do too. They land in my inbox or my mailbox or cross my line of sight. I'm talking about promotions that seem to be begging for attention. Others seem to be screaming for attention. Most are so… cheesy.
Choose to Be Remarkable Instead
Here's some advice on how to make this age-old marketing practice extinct.
In two words: Be remarkable.
Building a remarkable business does take time, but it doesn't have to be complicated. It starts with knowing your organization's higher purpose. And, it's simple to define purpose by answering two important questions:
What purpose does our organization serve?
What problems does our organization solve?
Then talk about both. A lot. (In a previous post, I wrote about business purpose.)
With your organization's higher purpose as the central focus of everything you do, marketing, communication and sales can look inward–to purpose–for guidance. And that guidance can manifest itself in clear and focused communication.
Your communication can now be focused on what problems you solve, but not necessarily what you sell. It's a soft-sell tack. And, it's an approach that doesn't have to rely on cheesy promotional tactics.
Carolyn Tate, in Conscious Marketing (I recommend you read it) says:
"Conscious marketing is all about building something so fundamentally good and compelling right into the heart of your business, products and services that everyone (suppliers, employees and community) wants to join your tribe and spread the word."
Here's what she says about marketing promotion:
"Promotion also becomes a much more authentic and deeply enjoyable activity because it comes from a deep sense of purpose and service. Promotional tasks become simpler and less time-consuming and costly, as new business comes through word-of-mouth and reputation."
Organizations with higher purpose as the central focus of everything they do, know their customers are probably listening and won't have
to scream for attention.
We may never see a day when all business puts higher purpose–or higher social purpose for that matter–before profit. I would encourage you, however, to explore the concept of purpose and follow that up with clear and focused communication that promotes your organization's mission.
"Great companies have great purpose." In Conscious Capitalism by Mackey and Sisodia (I also recommend this book.)
Benefits of Focusing on Higher Purpose
If you're still wondering if focusing on a higher corporate purpose is worth the effort, consider some of the benefits:
Creating a profitable and sustainable product or service.
Standing out from your competition (by being unique and different).
Spending less energy and resources on marketing.
Focusing your employees' efforts on a clear mission, which may contribute to improved employee engagement.
Be remarkable. Don't be cheesy. Talk about your purpose. A lot. Create clear and focused communication encircling higher purpose.
"It's not only a recipe for success; it's simply the right thing to do."
Is your organization focused on a higher purpose? Are your communication programs clear and focused? Please comment or reach out to me; I'd love to hear your thoughts.
Good luck!
This image is from the stock photography website 123rf.com; one of our favourite stock websites.